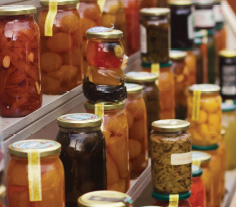 Founder & Managing Director, M.H. Enterprises Group Actively involved in the business, he leads the day-to-day operations for the Group. A ¬firm believer in God, and the ability of his co-workers, he treats everyone with a friendly smile. "Take care of all stakeholders and ensure every business partner is paid on time" is the mantra and key factor, driving the phenomenal growth and everlasting trust that M.H. Enterprises Group enjoys. He believes that success comes with dedication and hard work.
From humble beginnings to the leading FMCG distributor across the UAE over the past 4 decades, he has built his empire with a strong desire and drive, from the moment of his arrival in Dubai circa 1962. Today, the company has a predominant presence in the marketplace across many segments such as Retail (Hypermarkets, Supermarkets, Grocery retail), Wholesale, Exports and Food Services (HoReCa) throughout the UAE, Oman and other GCC countries. The Group has expanded over the years and today includes multipleinternational brands such as Nestlé and Unilever in its portfolio.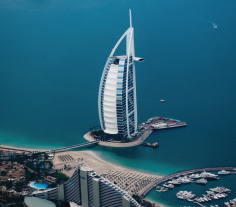 Q: Your perspective in your own words if you were to describe your story…
HG: I started working in a bank for a while when I arrived in Dubai. It was sheer luck that the timings were only until two o'clock, so I had enough time for other pursuits. I started taking up additional part-time work because I was a good typist and ranked first in my SSC. That is how I started but then I realized it wasn't enough. I wanted to make money, so I started my journey without knowing the ABCD of business… but I was very lucky. I had good people with me. I succeeded. Later, I started some other enterprises that lost money so I kept quiet for two years and started again. I got lucky again and managed to succeed.
Q: What has been your mantra for success and wealth?
HG: Hard work.
Q: How did you decide which businesses to invest in?
HG: I was getting a lot of proposals. I started a food distribution business and went deep into that space. Then somebody came to me and said that they wanted to start a chemicals business. I studied the premise to an extent and took a risk that paid off. Then somebody else proposed to me that they wanted to have a duty-free business in India. Today, I think we are one of the leaders in the duty-free segment in India with Adani Industries holding a 76% stake in our company. We have also found success in Dubai and Africa.
Q: With your first business, what was the background? What pulled you towards it?
HG: I have always tried to learn from observations to spot viable opportunities. No one really sat me down and taught me anything. I worked hard. I used to visit the supermarkets on my own to see if Tuna fish was a staple and where it was being sourced from. If I wanted canned vegetables or canned fruits, I tried to understand which country they were being imported from. I learned from my customers. If anything, they were the ones who taught me. It took me a long time and now it's been nearly 45 years.
Q: What do you look for in the people you partner with?
HG: Someone with the right expertise and knowledge. And I go with my instincts. I remember, once... a number of people back home called to warn me about one of my partners, but I took the risk. I told them that everything is under control. My partner was quite aggressive and rather dynamic, he knew the ins and outs of the business we were working on.Today we no longer work together, but he is well respected and established within his own enterprise.
Q: Which of the following resonate with you?
1. Wealth gives me independence
2. Wealth gives me recognition and power
3. Wealth gives me the ability to influence and create impact
4. Wealth gives me the ability to realize my material aspirations
HG: I would say wealth gives me independence. When I started, I had no wealth. When you have money, you can take any decision on your own. You don't have to ask people.
Q: What gives you great satisfaction? What makes Mr. Gandhi so young at heart that, even after 45 years you have the ability to take risks? What is your secret sauce?
HG: I have fire in my belly. I still think I'm young and when people ask about my age, I say I'm 28 years old. I have told my son that we will retire together. I still have the ability to work and even now I can work 18 hours a day. My partners in India who are involved withthe duty-free business, say that hard work is one of my formidable strengths. They say that I work very hard and don't give up.
Q: What is the motivation for you to work so hard?
HG: It gives me pleasure. I was working for money before. Now I'm not working for money, I'm working for my reputation.
Q: Are you invested in bringing something new to the table? Staying multi-dimensional and taking risks while helping people?
HG: Yes, it gives me great satisfaction to know that I'm employing more than 2,000 people and helping those 2,000 families. I'm taking responsibility for all these lives. I'm satisfied with the fact that both my business and my reputation are good. Suppliers from all over the world, whether the US, UK, Europe, Far East, India, Pakistan, South East Asia, etc.trust me. Our reputation precedes us and all our partners know that M.H. Enterprises will never default on them. I personally ensure that no payment reminders from their end are ever required. I'm very careful and ensure that my staff receives their salary before the 30th of every month. I have created an enterprise where not a single supplier needs to remind us for payments... that is the level of explicit trust.
Q: Which of these do you resonate with the most?
"Rejection of the status quo is good"
"Difficult to accept the easy way is good"
"Sacrificing short-term thinking for the long-term is good"
"Hunger to never stop innovating is good"
HG: Sacrificing short-term thinking for long-term vision is good.
Q: When you first started off,how did you keep up? It's a rather rare skill. How do you sharpen long-term thinking?
HG: When I first came to Dubai, my education was in the Gujarati medium. I was not able to speak English very well. I was quick at typing, so I got the job. However, I came to this country as a radio mechanic. After about six months, I realized that there is no future in it. So, I joined a bank. After working there, I had enough time since after 2:00 PM, Middle Eastern summers get excessively hot. So, while people slept, I thought to myself that, "I've arrived from Bombay and I am going to work hard and make money." Today I have reached a stage where I've managed to create a good reputation for myself and the business. We've received the Government of Dubai Quality Award. When I met His Highness Sheikh Mohammed, he asked me what my vision was? I replied that, "By 2032, I want to become the number one distributor in UAE." This was my vision. I do not know whether I will live to see it, but it is what I want to achieve. Today, we are one of the market leaders supplying to all kinds of businesses - from a small grocery shop to hypermarkets, supermarkets, restaurants, airlines, etc.
Q: You said hard work is very critical. What would be your advice to young entrepreneurs finding themselves in a vastly different era of entrepreneurship today?
HG: Work with honesty and hard work.
Q: How do you think wealth impacts society? How would you like to make an impact personally?
HG: By helping those in need of aid or support. Unfortunately, I'm not educated. So, whoever comes to me - be it a relative or a friend wanting to pursue higher education, I support them in their goals. I tell people openly about my background and even today I do not feel shy about asking for help. For example, when I have to write a complicated letter, I tell my senior staff to draft one as their language skills are better. I always defer to the expertise of educated opinions. There is no embarrassment in it.
Q: How do you manage to be humble and yet completely in control?
HG: I lost my father when I was only two or three years old. I learned everything from my mother. Young people, they respect me. My staff, they respect me. My doors are open for everyone and no one enters unless they are having a problem - whether it be a labourer or executive, if they have an issue, they know that I will solve it. That is an enduring quality of mine.
I problem-solve. We currently employ 1,500 to 2,000 people. There was a time when numerous employees and people known to us were asking us for a loan because they knew that we were providing them without any interest - with easy installments. Then we made a no-loan rule. We pay salaries on time, provide perks and everything on schedule. Even so, if someone needs help, we still consider the request. I'm strict, but at the same time, soft.