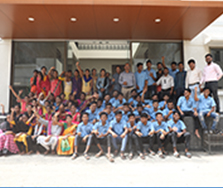 1. Grow & Help Grow
Skilling and Uplifting the Inhabitants of Palghar
SBM Bank India has signed an MOU with Sri Chaitanya Seva Trust (Govardhan Skill Centre) whereby the Bank will be extending financial support towards a computer skill development facility planned in the premises as well as women's self-help groups in remote and tribal areas of Palghar.
1) Govardhan Skill Centre (GSC)
A step toward livelihood creation and sustainability, the GSC promotes functional and non-functional IT/ITES & Industrial manufacturing-related skills for the local youth and women with a model of forward linkage.
An extension of Sri Chaitanya Seva Trust (SCST), it strives to provide a culture of spiritual care, compassion and empathy. The aim is to nurture value-based leaders and create resilient human beings - able to earn a dignified livelihood and transform into change leaders of tomorrow.
So far, we have donated more than 50 plus computers er systems and supportive infrastructure to the facility.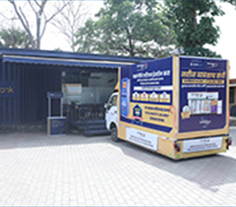 2) Skill training and Employment
As part of our skill development initiative, the on-campus residence programs will provide internship opportunities to trainees at SBM Bank India and partner sites.
Additionally, to make the GSC self-sustainable, we are optimising the space for local branding opportunities towards more income avenues.
Currently, GSC is one of the largest skill centres in India, with a massive 70,000 sq.ft of built-up space and 1,400-student capacity devoted to grassroots upliftment. 240+ students are registered for various courses since the campus' inauguration in Feb 2022.
3) Franchised Banking Centres or as we call it Smart Banking Kendras
Spearheading a grounds-up revolution with our #SmartPartners Vakrangee and Airpay, we are spreading the reach of banking with one of the largest emerging rural-focused consumer service .distribution platforms. through Smart Banking Kendras.
With the help of our #SmartPartners, we have more than 1000+ micro-atm machines powered by Rapipay & proposed Smart Banking Kendras Vakrangee & Airpay.
These Kendras are physical points of engagement that offer a bouquet of end-to-end financial and consumer services to the locals residents of Palghar who otherwise would have to travel far to access these services- thus not just eating away into their time but denting their daily earnings.
2. A Bank with a heart
1. Tribal Women's Empowerment by actively supporting Self Help Groups
In addition to sourcing their wares like millet laddoos, we are enabling end-to-end skill development for local tribal women's groups by helping them package and market their wares. Just so that their enterprises become more sustainable and scalable.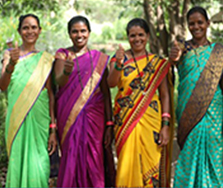 Additionally, we are encouraging local Warli artists from Kala Kendra - an initiative by Pragati Pratishthan an NGO that trains locals and thus aids employability. This initiative is geared toward helping conserve Warli - a form of beautiful folk art that is under threat of extinction.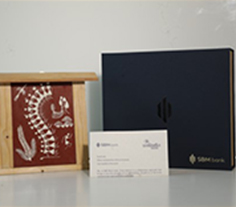 2. Warli paintings from Kala Kendra
SBM Bank sources these tribal Warli paintings from Kala Kendra (NGO) as mementoes for our in our outreach programs in India and abroad.
We also employ eco-friendly packaging across all items of sale - with the help of local self-help groups involved with tribal women's empowerment.
3. Marigold seeds
When customers open their accounts with us they are welcomed with a small packet of getting Marigold seeds as a part of their SBM Signature debit card welcome kit. The seeds are a fitting enumeration of exemplifying the fact that these relationships are the start of something big, something sustainable and something that can be mutually enriching.